I went to Gateshead Gaming today, the place where I got all my other 2nd Ed 40k codexes from.
Took in a load of stuff to trade, and got a £50 credit. So I got 12 Dwarf Hammerers, 6 Foundation paints, and a copy of Blood Bowl, the most recent edition I believe.
But get this... the game has NEVER been used. Opened, aye, but never used. The models are all on the sprues still, and book is in mint condition, and the card counters aren't only still on the card sprue, but also still in the plastic covering!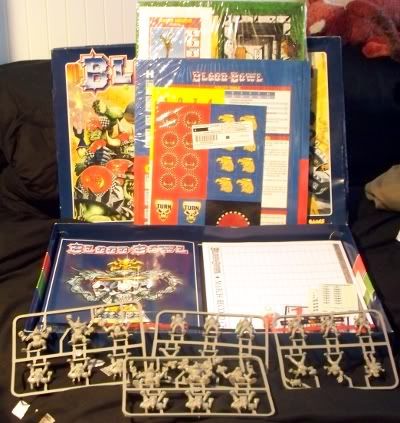 Well worth the £25 it was priced at if you ask me.
Actually, thinking back over the year so far, I've picked up some damn good bargins.
ALL of the 40k 2nd Ed rules, and a 3k Chaos BFG Fleet - £10
5 2nd Ed Codexes - £17
Liber Chaotica - £20
2 Dwarf Bolt Throwers (Full crew) 16 Dwarf warriors unmade, 12 Dwarf Hammerers unpainted - £46
Great condition, never used Blood Bowl - £25
So, some damn good finds if I do say so myself. :D
Plus, I've gotten rid of a lot of stuff that I was never going to use again. I had thought about using eBay, but it is a lot of hassle. At least now, I have stuff I want, and plenty of space to store it.
Another good outcome of this, is that I haven't used any of my new model fund, which still sits at a humble £17.